Our Holy Father Leo, Pope of Rome (461)
February 17, 2019

-

February 18, 2019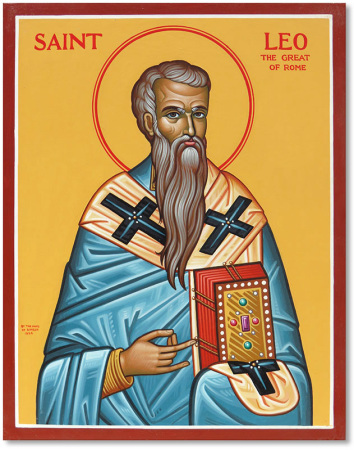 Our Holy Father Leo, Pope of Rome (461); 1 John 2:18-3:10; Mark 11:1-11.
Today is the feast of Pope St. Leo I, one of the most important popes in Church history and one of only three acclaimed as "great", mainly for his teaching against heresy and for his famous Tome, which was read at the Council of Chalcedon in the year 451.  He had a huge impact on the Church and the world in the fifth century, when the Roman Empire was in the midst of its painful transition from imperial glory toward what would eventually become Christendom, the combined Catholic nations of medieval Europe.  St. Leo the Great was also a great leader in that he faced down Attila the Hun, who was threatening to attack and sack Rome.
The late nineteeth century was also very troubled when Pope Leo's namesake, Pope Leo XIII, (1878-1903), began to reign in Rome.  The Church had been slowly rebuilding itself after the upheavals following the French Revolution, even as society was becoming increasingly secularized and anti-clerical.
In order to combat this de-Christianization, Pope Leo XIII advocated the praying of the Rosary and wrote 12 encyclicals and five apostolic letters on it.  He was also the recipient of a vision sometime in the mid-1880s, which led him to write his famous Prayer to St Michael. It was part of the Leonine prayers that were to be said after Mass as a way of calling on the assistance of this most powerful Archangel in the battle against the devil and evil.
Pope Leo XIII's vision is said to have taken place during Mass, when the pontiff apparently saw demonic spirits gathering about Rome and menacing it.  Witnesses saw his face become pale and fearful during the vision.  Afterwards, the pope composed the Prayer to St Michael and requested that it be said at the end of Low Masses:
Saint Michael Archangel, defend us in battle, be our protection against the wickedness and snares of the devil; may God rebuke him, we humbly pray; and do thou, O Prince of the heavenly host, by the power of God, cast into hell Satan and all the evil spirits who prowl through the world seeking the ruin of souls. Amen.