Our Holy Father Porphyrius, Bishop of Gaza (420)
February 25, 2019

-

February 26, 2019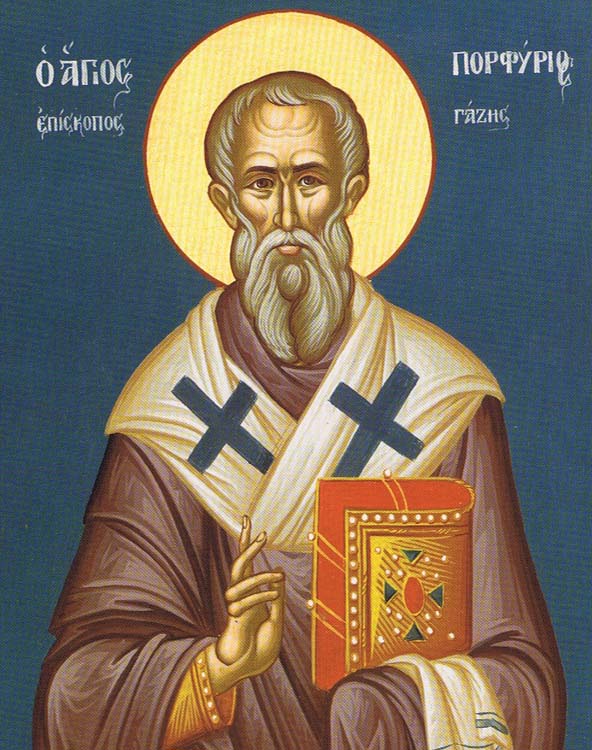 Our Holy Father Porphyrius, Bishop of Gaza (420); Jude 1-10; Luke 22:39-42; 22:45-23:1.
Saint Porphyrius, Archbishop of Gaza, was born about the year 346 at Thessalonica. His parents were people of substance, and this allowed Saint Porphyrius to receive a fine education. Having the inclination for monastic life, he left his native region at twenty-five years of age and set off for Egypt, where he lived in the Nitrian desert under the guidance of Saint Macarius the Great. There he also met Saint Jerome, who was then visiting the Egyptian monasteries. He went to Jerusalem on pilgrimage to the holy places, and to venerate the Life-Creating Cross of the Lord, then he moved into a cave in the Jordanian wilderness for prayer and ascetic deeds.
Saint Porphyrius upheld Christianity in Gaza to the very end of his life, and guarded his flock from the vexatious pagans. Through the prayers of the saint numerous miracles and healings occurred. The holy archpastor guided his flock for twenty-five years, and reposed in 420 at an advanced age.