Sunday of the Publican and the Pharisee, Tone 5
February 9, 2019

-

February 10, 2019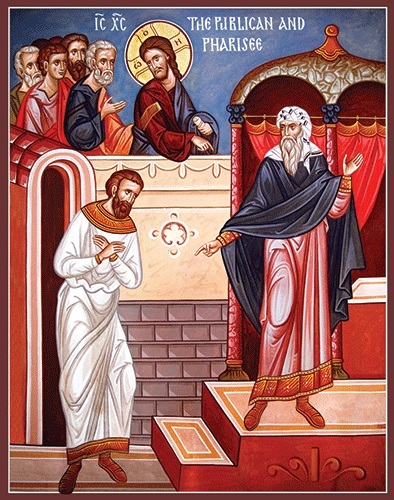 Sunday of the Publican and the Pharisee, Tone 5; The Holy Martyr Charalampius (193-211); 2 Timothy 3:10-15; Luke 18:10-14.
A Pharisee, overcome with vainglory, and a
Publican, bowed down in repentance, came to You
the only Master. The one boasted and was deprived
of blessings, while the other kept silent and was
counted worthy of gifts. Confirm me, O Christ our
God, in these his cries of sorrow, for You love
mankind.
Brethren, let us not pray as the Pharisee: for
he who exalts himself shall be humbled. Let us
humble ourselves before God, and with fasting cry
aloud as the Publican: God be merciful to us
sinners.
Almighty Lord, I know how great is the power
of tears. For they led up Hezekiah from the gates of
death; they delivered the sinful woman from the
transgressions of many years; they justified the
Publican above the Pharisee. And with them I also
pray: Have mercy upon me.